Hello again An Act of War fans! Hmm... I had to dust off the site before I could get started on this update. Yes, things have been rather slow in the news department lately. I'm afraid that real life has prevented me from posting regular updates, but never fear, work continues non-stop behind the scenes!
First off, some changes to the team. I'd like to bid our talented, long-time mapper IronRaptor farewell! He's moving on to Star Wars: Empire at War map work, and all of us here at An Act of War wish him luck! You can still expect to see IronRaptor's work in v2.0 of An Act of War, in everything from tons of great multiplayer maps, to the first USA mission in the singleplayer campaign. I'd now like to welcome our newest staff member to the team, everyone say hi to carlie-7! He'll be working as our new texture artist.
And now, on to the good stuff! I'm going to give you folks a special treat today, one of Iraq's most feared units. Presenting, the Iraqi ballistic missile launcher known as the "Al-Tammuz":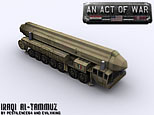 The purpose of this behemoth is strategic siege. The Al-Tammuz is slow moving, and must deploy and stabilize itself before firing, but packs an incredable punch. A near miss from one of it's earth-shaking missiles will send even M1A2 Abrams rocking, and will send lighter vehicles rolling. The Al-Tammuz's missiles can be targeted by some anti-aircraft systems, but it takes concentrated fire to bring one down.
Next up, something that no modern army can do without: Supply trucks! Based on the American M929 design, the Iraqi Supply Truck ferries supplies back to the Iraqi Supply Center for exchange for funds.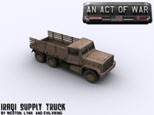 As I'm still feeling generous, I'll release a special sneak preview of one of the three action-packed missions that will come with v2.0. This mission, titled for now simply "Blackhawk Down", was created by imustkill and BlckWyerve. While I'm withholding most of the details of the plot, I can tell you that it will involve a special forces raid. And Blackhawks. Surprised? More to come in later updates!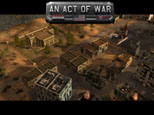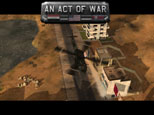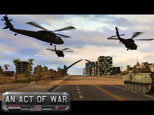 Now I'd like to discuss an issue that has been plaguing An Act of War recently: Theft. Some months ago, someone leaked an internal alpha of An Act of War v2.0 onto the internet. Since then, copyrighted An Act of War material has been spotted in several different mods. Please know this: Any unauthorised use of ANY An Act of War materials (textures, models, code, graphics) will NOT BE TOLERATED. While for some the use of our material was an honest mistake, the fact remains that these files are not for public use. Please be on the lookout for An Act of War material outside of Derelict Studios. If you spot any, please inform me at EvilViking@gmail.com . Let's respect each other's work, folks. Thanks!
Until next time!
Viking out.