Hello, AAOW fans! After a long period of downtime, I'm very excited to announce some big changes here at Derelict Studios, now reborn as
Bastep Studios!
Because Phoib is completely whipped, Bastep has taken command of the studio and she is currently re-writing the design document for the C&C Generals: Zero Hour total conversion, "An Act of War". An Act of War is now the cutting edge, hippy-friendly
"An Act of Love"
! Initial press release as follows:
QUOTE
An Act of Love:
'Showing the errors of the Iraq War, An Act of Love demonstrates what would have happened if George and Saddam would have listened to their hearts. A mod full of passion, emotion and love, An Act of Love brings you dancing Teddy Bears, Desert Romance and Hot, Steaming Action!'
We hope to better serve the world demographics by bringing you games based on love, not war!
While I'm not sure what kind of "Hot, Steaming Action" Bestep is planning on, I'm thrilled to be the lead graphic designer and concept artist for this new production. Below is the first concept art, displaying the "Teddy of Love", as well as the new Humvee varient, the "Teddy Transport". Also shown is our new logo, slogan, and some new particle effects.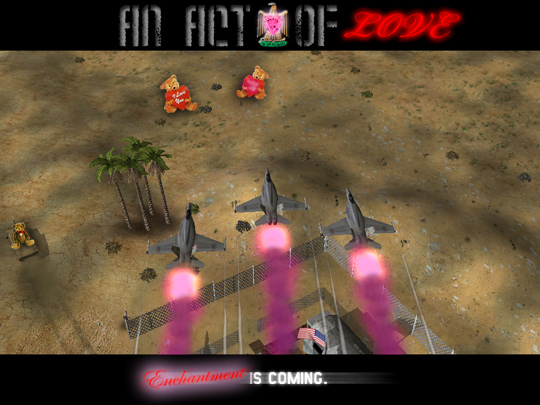 [Click on the image to see the full version]
We're currently looking for 14 voice actors, 7 3D modelers, 10 texture artists, 4 sound producers, 2 cinematic producers, and 9 programmers. Apply or comment in the forums!