July-August 2011 The First Battle of Smolensk 70th anniversary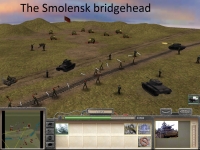 On June 1941, the Germans invaded the Soviet Union. 2 weeks later on July, the Soviet first Western Front was on the verge of completely ceasing to exist.
The Stavka committed virtually its entire strategic reserve to protect the Smolensk-Moscow axis.
The Battle of Smolensk was critical and its outcome would determine if an offensive against Moscow could continue.
Under your command the German Army Group Centre. This mission is in 2 parts. The first part puts emphasis on the German supply challenge, you have to protect the German supply depots and railway workers, and also defend against attacks from the Red Army and from the partisants.
The second part is about the Battle of Smolensk itself.
This mission will be included in the next patch Korona and friends will release soon!