Soviet Units
Infantry
The Soviet Union uses massed conscripts to overwhelm its enemies with weight of numbers. These troops often ride in mass-produced vehicles and mechanised wave tactics are a Soviet speciality. The Red Army also has a hard core of elite soldiers, often organised into "Guards" armies. These Troops use better quality equipment and are renowned for their feirocity. Soviet barracks are also cheap, making it easy to keep the front line supplied with fresh conscripts as it advances.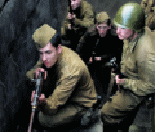 Back

Soviet Conscripts
Tech:
Start
Cost:
30
Training Time:
5 secs (trains 3)
Health:
20
Firepower:
40 (bullet)
Rate of Fire:
1.2 secs
Range:
175
Conscripts are men (and women) of service age pressed into fighting for their country. They have rifles to shoot enemy soldiers with, and Molotov cocktails which can be used to disable enemy tanks. They can shoot enemy soldiers hiding in buildings but this is harder than shooting them when in the open. Their low cost, versatile roles and good vision range allows them to effectively screen armoured units and blunt enemy attacks. However they are acutely vulnerable to just about every type of weapon.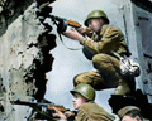 Back

PPSh Sub-machine-gunners
Tech:
Stavka
Cost:
50
Training Time:
6 secs (trains 2)
Health:
30
Firepower:
3 (bullet)
Rate of Fire:
(rapid fire)
Range:
110
Sub-machine-guns are designed to fire pistol calibre bullets very quickly reducing the need for careful aiming. They were developed to allow infantry to assault entrenched enemy positions. They are are shock-troops trained to combat enemy infantry and artillery in close quarters. They are great for urban warfare and are a match for riflemen, but they lack versatility and are useless against tanks.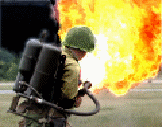 Back

Flame-Throwers
Tech:
Level 3
Cost:
75
Training Time:
8 secs (trains 2)
Health:
60
Firepower:
150 (flame)
Rate of Fire:
4.5 secs
Range:
75
Flame-throwers are brutal weapons prized for urban warfare. By cooking the air inside a confined space, a flame-thrower can asphyxiate as well as incinerate any troops unlucky enough to be caught in the blast. They are unparalleled for clearing enemy garrisons, and can make short work of wooden structures. However they are a short ranged weapon and actually getting close enough to use one is not always easy. They can work well when fired from bunkers or nearby garrisoned buildings.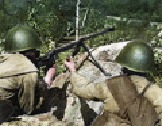 Back

Anti-Tank Rifles
Tech:
Stavka
Cost:
125
Training Time:
6 secs (trains 2)
Health:
50
Firepower:
10 (light penetration)
Rate of Fire:
2 secs
Range:
220
These troops use anti-tank rifles. These are huge weapons, barely portable by a single soldier. They fire large calibre bullets designed to penetrate light tank armour. However they are more effectively used to target fuel lines, tracks and other weak points on enemy vehicles. Anti-tank rifles are used to disable enemy tanks, giving an opportunity for heavier guns to destroy them.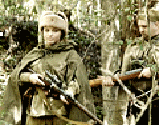 Back

Soviet Snipers
Tech:
Level 3
Cost:
400
Training Time:
15 secs
Health:
40
Firepower:
100 (bullet)
Rate of Fire:
8 secs
Range:
300
Snipers are primarily forward observers. They are invisible to most enemy units allowing them to provide essential intelligence on enemy troop movements. Further, they can spot other stealthed units that are close by - since these are normally other snipers, their high powered and long-ranged rifles are essential for self-defence. However they are also great for shooting enemies out of garrisoned buildings from beyond their rifle range, and for killing enemy officers.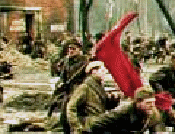 Back

Soviet Officers
Tech:
Stavka
Cost:
500
Training Time:
20 secs
Health:
100
Officers guide their comrades on the battlefield. They give an enhanced understanding of the tactical situation to their superiors (you) with a large vision range and the ability to spot concealed enemy units and structures. They also provide guidance and inspiration to nearly troops, inspiring them to fight better and coordinating fire to improve effectiveness when targeting the officer's designated target.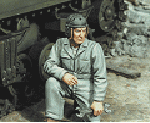 Back

Combat Engineers
Tech:
Start
Cost:
400
Training Time:
15 secs
Health:
100
Combat Engineers are very useful infantry. They lack any ability to directly fight with enemy troops, but can prepare the battlefield to give friendly troops an edge. They can build towers, mines, tank traps and bunkers as well as planting dynamite on enemy buildings to disable them. As well as building defences they can also repair nearby friendly tanks, just move them into proximity and they will get to work automatically.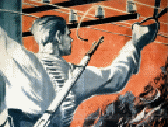 Back

Soviet Partisans
Tech:
Level 3
Cost:
3500 (per squad)
Recharge Time:
90 secs (per squad)
Trained At:
Command Centre (special power)
Health:
100
Partisans are equipped with a mix of rifles and SMGs as well as explosive charges. These can be placed on enemy factories to disable them. Partisans are able to appear anywhere on the map, even inside enemy bases or next to garrisoned buildings. Their ability to take over towns in the enemy hinterland allows them to conduct economic warfare, sapping the enemy's funds and forcing them to redirect troops to protect their rear rather than fight on the front lines. Equally, knocking out production, while temporary, can hamper the enemy's war effort and drain them mentally leaving them paranoid and neurotic.